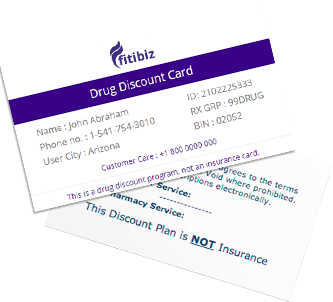 Prescription Discount Card Benefits
Get up to 80% off on RX drugs
Over 60,000 pharmacies are used FDA approved RX drugs.
To get our service there is nothing to do anything as no form fills, no expiry date, and no pre-qualification require!
You can get a discount on the prescription at that time when your medication is not included in your current plan. So no need to worry about we always ready to help our patients.
The easiest way to get, use and save money on medicines!
A patient can get our Free Pre-Activated RX Discount Card when they need it and immediately use at over 60,000 participating pharmacies including with biggest chain stores such as Walgreens, CVS, Rite-Aid as well as local neighborhood pharmacies in the USA. The patients will use our discount card when the insurance plan does not cover all medications of the patients. When you use our free prescription discount card you can easily get substantial savings on brands and generic drugs easily, Also if you want to check drugs cost then use our Drug Pricing Tool to know about the actual cost of any drugs.
No need to pay the full price for your prescription.
Save money with our Fitibiz Discount Card today.

Save money on these major pharmacies by our Discount Card!






When I used the Fitibiz discount card for purchasing the prescription medicine, I found that I get a discount of 50 to 80% on every prescription medicine. It's really Cool! Because I used many discount card and simply get less discount off prices. But using this discount card me and my relatives get discounted every time up to 80% on the actual price of the medication.
When I used the Fitibiz discount card!
"By this prescription discount card, I paid many times fewer charges of the actual price!" Your discount service is such a great option for the middle-class person! My physician is surprised and recommended this discount card to the patients to save money on expensive medicines at a low price! This discount scheme is really helpful and I thankful to the Fitibiz providers for great working!"
Your discount service is such a great option!
I Saved $119! Since I have moved to another state and struggle for finding a new job. Also, I don't have any type of insurance and worried about how to pay $225 without any insurance. After some days I found Fitibiz and save 80% discount for my every prescription. I tried many discounts card and save a little amount but this card doing a great job! I prefer to all my friends and relatives to use this drug card. It's really Awesome!! Thank You!
I am a diabetic patient and the medicine cost is $ 164.39. Which is difficult for a middle-class person to buy medicine, So I searched for a discount card to save some money and I got a discount card of Fitibiz and go to the nearest dispensary center with this card. I'm stunned because the cost of medicine is just $17. This is a wonderful gift for me and those who want to save money on the prescription. Thanks to Fitibiz for the great work!
Thanks to Fitibiz for the great work!