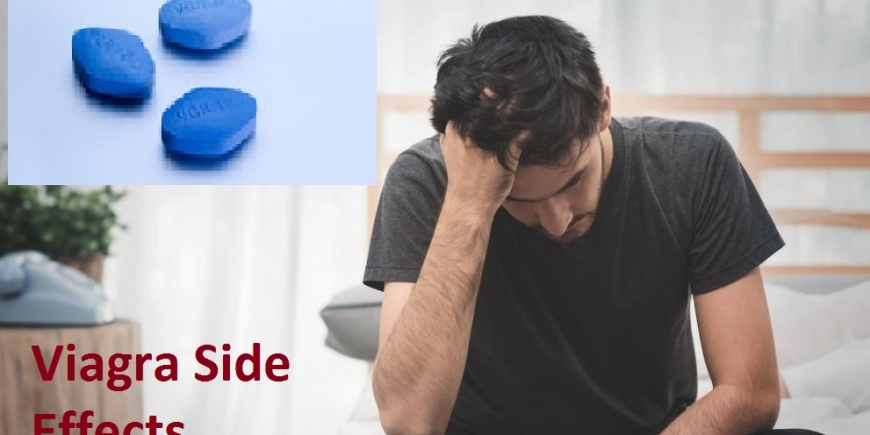 Viagra (Sildenafil) is a drug which is used in the treatment of Erectile Dysfunction (ED). It is a phosphodiesterase-5 (PDE-5) inhibitor. Viagra is the oldest drug which is used for sexual treatment. Initially, Viagra was designed by Pfizer in the UK, for working on a drug for hypertension, or high blood pressure, and angina pectoris. In the 1st stage,' the excitement' was noticed by patients, but not long enough for penile erections. Using Viagra pills, you can easily get attention to do long duration intercourse.
In 1998, Viagra becomes 1st oral tablet which was to treat erectile dysfunction in the US. Viagra sales expend up to 100+ countries, in 2008, Pfizer generated a revenue of  $1.93 billion from a single product.
Why the side effects of Viagra medicine occurs?
Viagra helps to increase the blood circulation in the penis, which helps in elongation of the penis. After taking Viagra, high blood flow starts from blood vessels, accumulated blood in the penis causing an erection.
If a person suffering from heart issues or surgery, the excess flow of blood circulation due to cGMP can cause a serious problem.
cGMP which circulates the flow of blood in the penis, after taking Viagra pills, increase very rapidly. to control the flow of blood, body release PDE-5 which helps to get the normal position of the penis.
Normal Side effect of Viagra drug
Blue and green color vision issue,
Headaches,
Diarrhea,
Memory problem,
Ringing in the ears,
Redness on face & neck,
The recommended dose of Viagra is 25- 100 mg, take 30-60 minutes before sex. Don't try to eat medicine without the advice of a doctor. Don't hide, any physical or mental problem in front of the doctor. Some medical conditions like bosentan, cimetidine, conivaptan, imatinib, isoniazid, antidepressants, antibiotics, antiphonals or HIV/AIDS medicines.
Viagra is used for men, unlikely to be used in pregnant or breastfeeding women. Consult with your doctor, if you are planning to conceive a baby with the help of Viagra, then take advice because if Viagra passes into breast milk can harm nursing baby, and take good advice.
Viagra Side Effects may lead to a serious problem, which is listed below:
Ringing in your ears (suddenly ear pain),
Heartbeat (difficulty in taking a breath),
Swelling in your hand, ankle & feet (body pain),
Seizure,
Stomach pain or acidity,
Back or muscle pain,
Sleeping disorder,
Stuff & Runny nose,
Flushing,
A Doctor compulsory need for the below symptoms:
In this list of Sildenafil side effects, don't try to avoid the doctor's advice or medical treatment because it may lead to a serious problem for you.
Symptoms of a heart attack like chest pain or pressure, sweating, pain in spreading your jaw or shoulder.
Vision loss (if you are facing difficulty to find the yellow and green color or don't able to form one eye or both the eyes.
Erection is painful.
Penis erection lasts longer than 4 hours (Because of the ration of damage increases up to 60- 80%)
Hearing loss
Experimental details of Viagra on patients (to check the side effects percentage)
Age of patients (19 to 87 years).
Long-time (more than 1 year) treated on 500+ patients.
Experiments with 25 mg, 50 mg, 100 mg Viagra.
Before providing you the side effects of Viagra on patients, we want to clear you that only ≥ 2% of people face the side effects.
Table 1: More than a year results.
| | | | |
| --- | --- | --- | --- |
| Issue due to Viagra | 25 mg of Sildenafil | 50 mg of Sildenafil | 100 mg of Sildenafil |
| Abnormal Vision | 1% | 2% | 11% |
| Back Pain | 3% | 4% | 4% |
| Dizziness | 3% | 4% | 3% |
| Dyspepsia | 3% | 9% | 17% |
| Headache | 16% | 21% | 28% |
| Myalgia | 2% | 2% | 4% |
| Nasal Congestion | 4% | 4% | 9% |
| Nausea | 2% | 3% | 3% |
| Flushing | 10% | 19% | 18% |
Through Viagra pills, we are trying to give you the result of side effects in percentage. Every medicine is not good for everyone because blood cells are different. Generally, sex-related medicine has a very low scale of the reaction.
"Our advice for you just takes precaution and follow the prescription provided by the doctor."
By the studies, about 80% of Sildenafil (Viagra) leaves your body in your stool and the rest washes with your urine.
Check out the few more side effects
Body related issue:  If you are feeling Photosensitive reaction, shock, Athenian, pain, chills, accidental fall, abdominal pain, after taking Viagra pills i.e. side effect of the medicine.
Cardiovascular (Related to heart and blood vessels): AV block, migraine, syncope, tachycardia, palpitation, hypertension, postural hypertension, myocardial ischemia, cerebral thrombosis.
Digestive (Body isn't able to digest food): Vomiting, glossitis, colitis, dysphagia, gastritis, gastroenteritis, esophagi.
Metabolic and Nutritional (Problem-related to converting food in chemical):  Arthrosis, myalgia, tendon rupture, tenosynovitis, bone pain.
Nervous (Working and activeness of brain decreases): Hypertension, neuralgia, neuropathy, parenthesis, tremor, vertigo, depression, insomnia.
Skin and Appendages (Redness to skin and irritation): Herpes simplex, prurient, sweating, skin ulcer, contact dermatitis.
Hearing (Buzzing sound): Person may lose their ability to hear the sound.
Ocular (Eye vision problem): In this, suddenly a person loose there ability to see(1 or both the eyes), sometime it may cause color blindness.
Before taking Viagra, tell the doctor about such conditions if you have:
Heart problem such as heart attack, irregular, heartbeat, angina, chest pain.
Heart surgery within the last 6 months.
Pulmonary hypertension (affects the arteries in your lungs).
Had a stroke.
High and low BP (blood pressure) issues.
Deformed penis shape.
Erection of the penis for more than 4 hours.
Blood cells related issues like cell anemia, multiple melanomas.
Genetic eye disease, or severe vision loss (NAION).
Blood clotting issues.
Stomach ulcers.
Kidney dialysis.
Details of present medicine if you taking.
Don't take Viagra if you:
Any medicine which contains Nitrates.
Blood pressure problem.
Recently went through any surgery.
Allergic to Sildenafil.